IMM-NRF52832-NANO (BLYST Nano)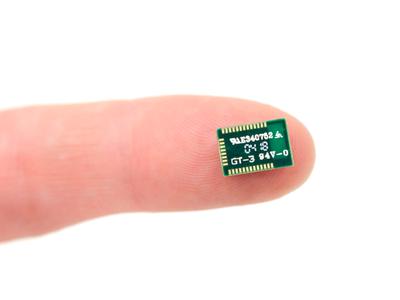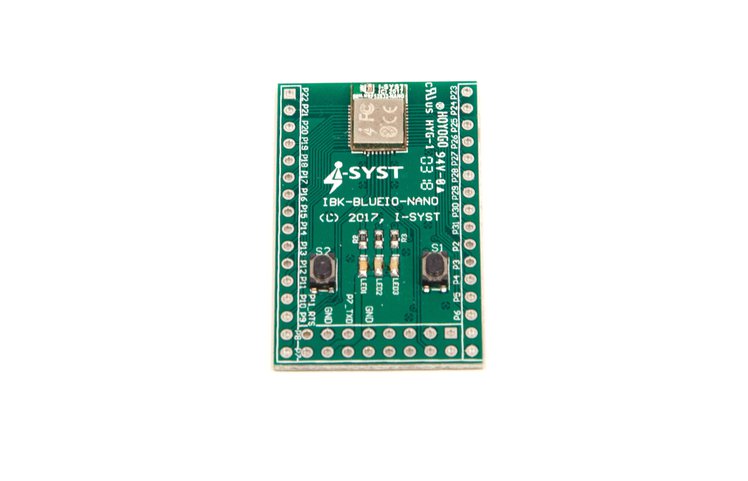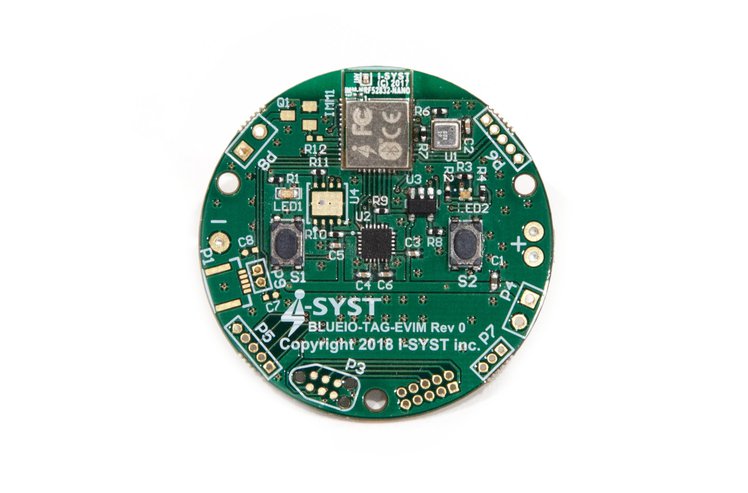 Fingertip size Bluetooth® 5 Module
With a design based on the Nordic nRF52832 SoC, combining a low power 64 MHz ARM Cortex-M4F and the 2.4 GHz radio in a single chip, the BLYST Nano SoM (System on Module) is the perfect way to catch this new Bluetooth IoT wave driven by both Bluetooth® 5 and Bluetooth® Mesh.
The BLYST Nano is low power and small enough, at 10 x 7 x 1.6 mm, for wearable and sensor applications.
With 30 programmable I/O pins, it's versatile enough to fit any control and automation application.
With a hardware floating-point unit, algorithms can be directly implemented on the device, allowing more real-time sensor fusion processing.
It is a complete System on the Module with all required components (crystals, coils, DC/DC, etc.) built-in and ready to use. So you don't need to take up more board space with add-on components needed to support a given module.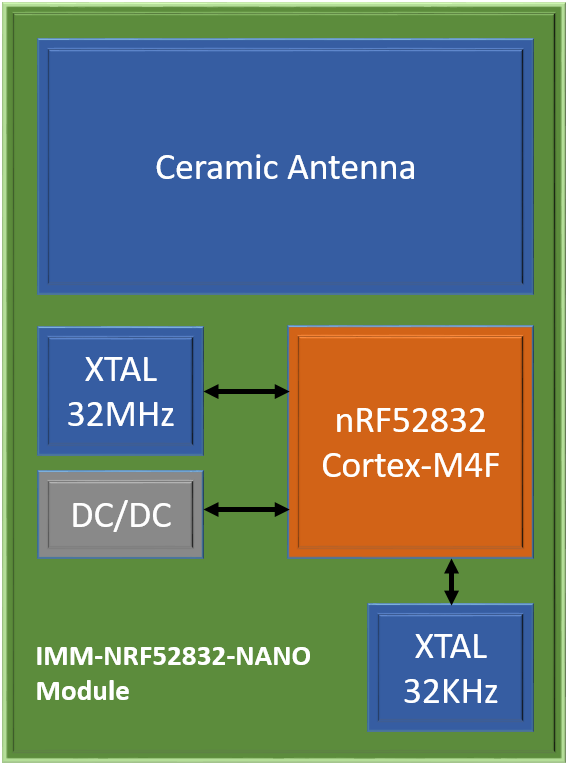 BLYST Nano Module Features
Built-in ceramic antenna
Built-in coils for low power DC/DC mode
Built-in 32 MHz & 32.768 MHz crystal for low power
Dimensions: 10 x 7 x 1.6 mm
No extra PCB spaces or any external components required on users' application board
All I/O pins of the nRF52832 are exposed to pads around the edges of the module to take full advantage of the nRF52832 and for easy assembly without compromise
FCC & CE certified
nRF52832 Features
Single-chip, highly flexible, 2.4 GHz multi-protocol SoC
32-bit ARM Cortex-M4F Processor
1.7 V to 3.6 V operation
512 kB flash + 64 kB RAM
Supports concurrent Bluetooth low energy/ANT protocol operation
On-chip NFC tag for Out-of-Band (OOB) pairing
Up to +4 dBm output power
-96 dBm sensitivity, Bluetooth Low Energy (BLE)
Thread-safe and run-time protected
Event-driven API
On-air compatible with nRF24L and nRF24AP series
2 data rates (2 Mbps/1 Mbps)
PPI - maximum flexibility for power-efficient applications and code simplification
Automated power management system with automatic power management of each peripheral
Configurable I/O mapping for analog and digital I/O
3 x Master/Slave SPI
2 x Two-wire interface (I²C)
UART (RTS/CTS)
3 x PWM
AES HW encryption
12-bit ADC
Real-time Counter (RTC)
Digital microphone interface (PDM)
Radio

Band

2.4 GHz ISM

On-air datarate

2 Mbps and 1 Mbps Bluetooth LE 1 Mbps ANT

2 Mbps and 1 Mbps 2.4 GHz proprietary

Output power

Programmable: +4 to -20 dBm in 4 dB steps

Sensitivity

-96 dBm Bluetooth LE 1 Mbps

-89 dBm Bluetooth LE 2 Mbps

-93 dBm 1 Mbps ANT

-30 dBm whisper mode

RSSI

1 dB resolution

Radio current consumption with DC/DC at 3V

7.5 mA – TX at +4 dBm output power

mA

–

TX

at 0 dBm output

po

wer

mA

–

RX at

1 Mbps

Microcontroller

CPU

ARM Cortex M4

Floating Point Unit

Yes

Memory

Flash 512 KB (+ cache) + 64 KB RAM Flash 256 KB (+ cache) + 32 KB RAM

GPIO

32 configurable

Peripherals

NFC

NFC-A Tag

ADC

12-bit 200 ksps

Comparators

General purpose, low-power

Interfaces

SPI/2-wire/I²S/UART/PDM/QDEC

Security

AES-128/ECB/CCM/AAR

Timers/Counters

32-bit

System

System peripheral bus

20-channel PPI

Power supply

Automatic system power

DC/DC (1.7 V to 3.6 V), LDO (1.7 V to 3.6 V)

System current consumption DC/DC at 3V

0.3 μA – No RAM retention

1.2 uA – All peripherals in IDLE mode

1.6 uA – All peripherals IDLE mode (32 kHz + RTC) 20 nA per 4 KB - RAM retention

Performance

Coremark

215 EEMBC CoreMark® (3.36 CoreMark/MHz)

58 CoreMark®/mA (Flash)

Package options

QFN48

6 x 6 with 32 GPIOs

WLCSP50

3.0 x 3.2 with 32 GPIOs
There are lots of software developement resources available for the nRF52832. It is well supported by the open source community, from beginning Arduino users to more advanced progammers. The Micropython port is also available for the BLYST Nano based boards.
IoT

Smart Home products
Industrial mesh networks
Smart city infrastructure

Interactive entertainment devices

Advanced remote controls
Gaming controllers

Advanced wearables

Connected watches
Advanced personal fitness devices
Wearables with wireless payment
Connected Health
Virtual/Augmented Reality applications